book cover graphic art catalog
pre-made, available book covers, price includes text additions and typesetting.
graphic art & images catalog
suitable for CDs, DVDs, book covers, advertising, promotional efforts, t-shirts, wall art, card art, websites. ($5 & up)
foundations, backgrounds
figures & objects
decorations
business card graphic art catalog
business card blanks--backgrounds upon which your text can be laid.
graphic art estimate
describe your project needs &, if any, your deadline
help for your art project
use the form's message area to request help with your graphic art project, whether it's just processing help or help bringing the project up to professional quality
digital graphic art
comments and viewpoints about digital art by a graphic artist & designer
GRAPHIC ART HOW-TO HELP AND HINTS
how to do graphic art yourself
the basics you need to know
All About Art
a professional graphic artist talks about art – fine art, digital art, & graphic art



WEB RELATED PROFESSIONAL GRAPHIC ART & DESIGN SERVICES
graphic art for websites & webpages
Signature Series website design
with D.L.Keur of zentao.com
a webmaster's blog
on website design and website development
ART ARCHIVES
RELATED ART PAGES, SITES, & ARTISTS

PROFESSIONAL GRAPHIC ART & DESIGN
COMPRESSION SET FOR INTERNET VIEWING, COLOR SET FOR TRUE COLOR, CALIBRATED MONITORS.
BUSINESS CARD ART & DESIGN
Psst! I don't print them. I do offer design help, though, and I also will take your own design and bring it up to professional quality. For printing, I suggest Printing For Less)
A business card or calling card is your personal representative in your absence. It works for or against you when you aren't around. If your business card looks like everyone else's, it does nothing for you. If it is distinctive in a way that enhances you and what you represent, it furthers your concerns. Of course, if it is so mediocre or just plain bad in its design, then you'd be better off not having it because adverse advertising is worse than no advertising.
My designs work off of your personal dynamic, or from whatever description you send me. If you already have your own logo, images, URL, and/or brochure and want your card based on that, or, perhaps, refreshed, I will work with you to update your "look" If you send my your own idea of design or tell me about yourself and your business, product, or project, I strive to portray that essence and personality in the condensed 2D format a business card.
...And designs don't have to be staid or boring. They can be business-like, even tan, but still have that "edge".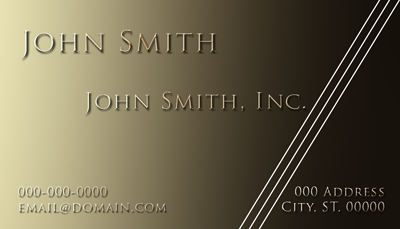 ...Or they can get a bit dynamic and even wild.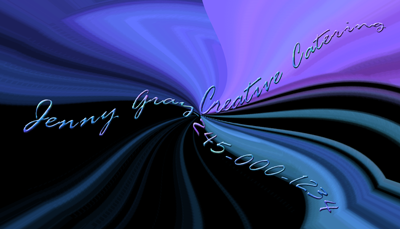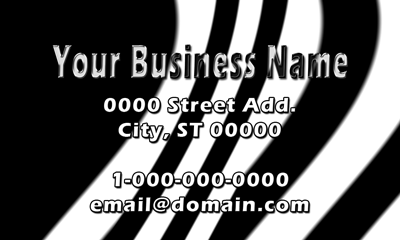 Oh, and if you want to look through a catalog of pre-made business card blanks, click here: Business Card Graphic Art Catalog
If you need a logo designed, too, you can either use one of the "insta-logo" services around the internet, have me develop one for you, or go to a professional logo designer (There are many good ones who advertise on the Internet.)
If you want to know how to build a business card yourself, go to my Business Card Do-It-Yourself page.
PRICING: Most cards - $60 to $80.
For photo added and extensive typesetting similar to Aura Light card, priced $120 and up.
BUSINESS CARDS I'VE DONE THAT I LIKE