LOGOS, LETTERHEAD, OFFICE FORMS, SIGNS
Logos
I'm not a specialist in logos. Sometimes I get lucky and hit what you want right away. Other times we both get frustrated. Your best bet is to go to a graphic artist who is a specialist in logos. There are some very good ones around the Internet. Of course, they are expensive, and, of course, if you are looking for "cheap," there are lots of "insta-logo" websites around where you can whip one out in no time.
I'll slip some logos I've done in here when I get around to digging them out of the archive.
Letterhead
Letterhead is a fomula, really: Take your name, address, phone number, email. Design the layout to match your business or personal persona and translate it into font, and embellishment, add logo, and you're done. Remember you can use the footer area and, if you want to get fancier, the margins, a full bleed background, and a watermark.
Office Forms
You are usually better off doing these in Word, Excel, or Access or similar types of programs so you can change them as needed by the business. Just slip your business letterhead in on top and print your terms of service on the back. Terms of service are usually printed in small type in a color just a few shades darker than the paper color. This isn't to drive readers crazy, though there are some unscrupulous benefits to making it difficult to read. It's done so that the print doesn't show through the other side of the page.
You can see one I did for Michelle below.
Signs
Vector graphics ONLY here. Your logo designer should have your master logo saved in vector format which can be shipped to any printer who can add whatever text you like. Save yourself some money and do it that way. Of course, I can do them, and charges are the same: $60/hour
ORDER FORM WITH CUSTOM LOGO AND MARGIN GRAPHICS
Built to specifications provided by the client, this order form was originally designed to be printed by the client on standard 8 1/2 x 11 paper with 1/4 margins. It was then modified to print on 8 1/2 x 14 sized paper to allow for extensive product additions. Print-sized closeups are below this image. PRINTED BY: SELKIRK PRESS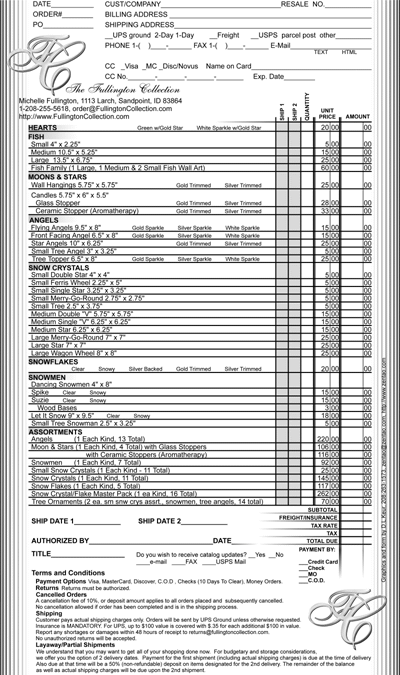 ORDER FORM DETAIL, TOP RIGHT


ORDER FORM DETAIL, BOTTOM RIGHT