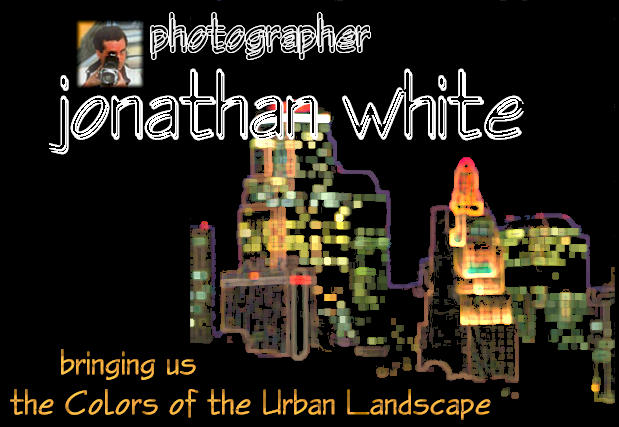 For proper viewing, this page must be seen with a browser that reads table border colors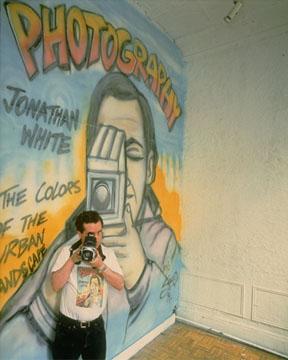 My self-portrait, which I took at an art show I had in New York
at the Kraine Theatre/Gallery in March, 1994 .
The background mural was painted
by New York City Graffiti Artist, Chico,
who later collaborated with me on some prints
which you can see on my website.

For the past 10 years, the creator of the photographic series, The Colors of the Urban Landscape, has been in numerous art exhibits, both group and one-man. In the Summer of 1995, Jon served as the curator of the group art show, A Fraternity of Artists at New York's La Mama La Galleria in the East Village, in which Chico was a participating artist, as well as having painted one of his trademark murals honoring the fraternity from which this art show originated, AEPi (Rochester Institute of Technology). After photographing a lot of Chico's murals, Mr. White managed to meet Chico at his first art show in Manhattan at the Bell Caffe in Septemeber of 1993.

Says Jon,

" I'm interested primarily in color photography in an urban setting. I've explored this genre further with the use of special-effects in Adobe Photoshop, as well as some multi-media collaboration images, which are selected photographs with art work painted on them by New York City Graffiti Artist, Chico. "

Those interested in contacting Jonathan White may do so by emailing:
Back to Starving Artist Showcase Main Index
Back to Starving Artist Showcase Graphic Arts Index
Page created by

web page design - WebArt by Zentao
page created 10/11/1999
last updated: 10/16/1999