I keep seeing, via social media, all these folks posting articles about "what's the right size for an eBook cover". And the answers are mostly just ludicrous. So, here, again, let's go over some basics.
Create your book cover at the largest printable size you may ever want to publish. If that's an 8 1/2″ x 11″ cover, make it that size, and set the DPI/PPI to a MINIMUM of 300. 600 is better, and 2400 is best.
Here's a template set for a standard U.S. 6″x9″ cover, front, spine, and back, set at 300DPI for those who might need one. Yes, you may use it for free. It's NOT the template I use. My templates have more guides, but it's a good working template, easy to use, and self-explanatory. (And, if you want a book cover help article of mine, you can find one here: https://www.zentao.com/graphic-art/2015/04/d-i-y-using-pre-made-graphic-art/ )
6 inch x 9 inch book cover template, transparent .PNG 300dpi, 3975px x 2775px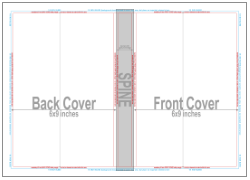 Next: use the front cover of the image you've created for the eBook cover, less the bleed margins. (See the above linked template.).  Size to 300DPI/PPI, and there you go. Most eBook formats will accept that file. If not, you can use Photoshop or Gimp or any other GOOD, PROFESSIONAL image manipulation program to resize to their choice of specs. It takes about 15 seconds to do it, including saving the file, named appropriately so you can identify which one is for which platform.
That's it! That's all there is to it.
Unfortunately, a lot of do-it-yourself-ers start with something smaller than appropriate, set at 72DPI, which is guaranteed to give poor results. Start large, at print sizing, and at a high DPI.